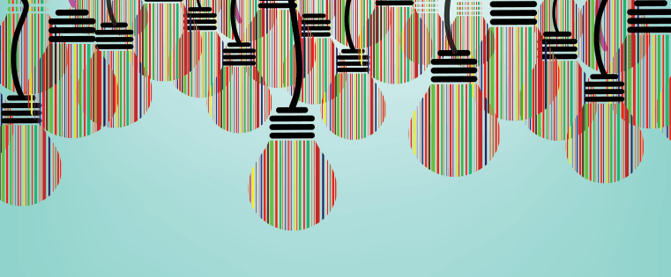 Coming up with fresh, new ideas isn't easy. And when your job requires churning them out on a daily basis, it can be easy to hit a wall. (Not to mention frustrating.)
Here are a few creative ways to help liven up your brainstorming sessions to improve your team's output of ideas.
7 Brainstorming Tricks to Inspire Brilliant Ideas
1) Come up with bad ideas first.
Once you've spent some time sharing throwaway ideas and having a few laughs, you can refocus on brainstorming ideas that could work. And who knows: An idea that isn't so great on its own could spark some really ingenous ones that inform the direction of the rest of the meeting.
2) Break and build ideas.
3) Play word games.
Word games can be powerful ways to help remove you from the traditional mindset that tends to produce generic, unoriginal ideas. If you're trying to get out of an idea rut, try adding a few games to your meeting to drum up some out-of-the-box thinking.
One great word exercise is creating a "word storm." To create a word storm, write down one word, and then brainstorm a whole slew of words that come to mind from that first word. Try thinking about the function of that word, its aesthetics, how it's used, metaphors that can be associated with it, and so on. Let the ideas flow naturally, and don't over think it -- this is meant to be a creative exercise.
Once you've listed out a bunch of words, group them together according to how they're related to one another. The goal? To come up with those less obvious words or phrases your audience might associate with whatever project you're working on.
4) Create a mood board.
While there are many ways to use visual prompts in brainstorming, creating a mood board is one of the most common -- especially in coming up with new branding and design concepts.
A mood board is simply a random collection of images, words, and textures focused on one topic, theme, or idea. Like with mind mapping, the visual components of the mood board can be anything branching off that central topic.
5) Play improv games.
Nothing gets the creative juices flowing like a little improvisation. This may sound silly, but hear me out: The more relaxed and playful the environment is (without being distracting), the more your team will feel comfortable thinking and sharing freely with one another.
If your team can relax briefly and laugh together, your creative energy will be much higher when you refocus on the project at hand.
6) Doodle.
Did you know that doodling can help spur creative insight, increase attention span, and free up short- and long-term memory?
While many brainstorming sessions are based on talking and reading, doodling helps people break out of the traditional mindset and think about familiar things in a different way, perhaps leading to unexpected connections.
What should you doodle? Here are two ideas from Brown's book:
Take an object and visually break it down into its tiniest parts. So if you start with the word "dog," you might draw paws, a tail, and a collar. Thinking about all the elements of that object and the environment it is found in will allow you to view an object in a new way.
"Take two unrelated things, like elephants and ice cream, and draw them in their atomized parts," writes Jennifer Miller for Fast Company. "Then create drawings that randomly fuse these parts together. Like trunk-cones or melting ears. Brown has used this technique to help journalists think up unique story angles."
7) Change your physical environment.